303 kilograms – this is how much garbage the statistical Pole produces annually. Non-statistical Poles are able to give a second life to this garbage.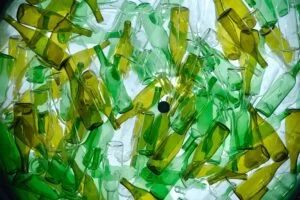 When Justyna Bieńkowska-Werbicka came to choose a specialty at the Faculty of Fine Arts at Nicolaus Copernicus University in Toruń a few years ago, she followed the voice of reason, not her heart. However, at the Art Studio "Tynka", which she runs in Zabia Wola, near Warsaw, she manages to combine pleasure with utility, the wolf is full and the sheep is whole. This means: business is booming, there is enough to live on, Justyna is also fulfilled artistically, because each product is handmade and goes to the customer with a piece of her thoughts and emotions, and the environment is taken care of in the process. Justyna conjures up bowls, platters, plates, candlesticks and clocks from seemingly useless glass bottles.
Iza Kot-Gawrylczyk is also a graduate of the Academy of Fine Arts, and professionally she is partly engaged in designing completely new decor for apartments, and partly (together with her mother Ewa) in the basement of a house in Nieporęt, near Warsaw, she brings completely old materials back to life in a new form (many of them were already in intensive use, when neither Iza nor even her mother were in the world). With the joint efforts of mother and daughter, operating as the brand "Trykot," the following are created from tarpaulin military stretchers from the 1940s and 1950s or linen mail sacks from the 1960s: bags, backpacks, make-up bags, and even covers for cups and tablets.
*Glass bottles * Justyna has a husband, three children and an artistic soul. In 2011 she defended her diploma in painting at the Nicolaus Copernicus University in Toruń with honors, in the meantime she studied for six months at L'Ecole Superieure Des Arts Saint-Luc in Liege, Belgium, received an art scholarship from the Marshal of the Kujawsko-Pomorskie Voivodeship and showed her works in galleries in Poland and abroad.
Despite this, she has long known that she would not earn a living with a paintbrush. – Painting is too intimate an art for me to make a living from it, I wouldn't be able to put a price on my paintings. Besides, when clients show up, it is very difficult to stay true to one's own creation on the one hand, and to keep growing on the other. Of course, it's possible to paint what clients expect, but that would go against my ideas," she explains. That's why when it came to choosing a specialty in college, she decided on stained glass and art glass. – I was looking for an alternative, an artistic occupation on the one hand, and on the other, one that could provide me with a regular income.
The choice fell on glass because it is "a very interesting material" and "offers a lot of opportunities for self-expression, experimentation, and at the same time designing objects." Her intricately crafted, unique vessels were pleasing to the eye, worse when it came to selling them, the materials to make them were expensive, so the prices also had to be correspondingly high, few people could afford such a luxury. Especially since, as she notes, glass objects are quite a "risky investment", just that they can even break. – So I started thinking how to offer customers a product that is also artistic, but at a more affordable price. That's how the idea of using glass bottles came about.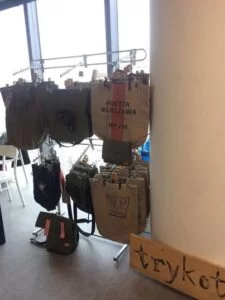 The story of the postal bag Iza meeting begins with an anecdote (almost at the threshold, between passing "on you" and making tea): thanks to the bags she met her husband, lived to see her son. And immediately afterwards she admits: "I can't sew."
However, she has long had a heart for art and an eye for interesting things. Among other reasons, she went to the Academy of Fine Arts. In her family home, her mother has always sewn. – She taught herself. Her godfather was a tailor for men's suits, so I think she got some guidance. And in the days when my brother and I were little, i.e. in the early 1980s, there were no clothes, my mother converted her old things: dad's shirts into my dresses, felt suits. This was the beginning of recycling in our family," Iza laughs.
Later they would spend hours leafing through "Burda", it was their fashion bible, especially the patterns. Then, a few years ago, Iza "stumbled upon" an old mailbag. It was a pity to throw it away, so she and her mother began to combine: "here we can give a lining from the inside, sew some ears, it will be a handbag". – And I walked around with this bag, and people accosted me on the street: "oh, what a nice one, and where from?". This gave us the idea that it would be nice to pull it somehow, to start a small business. Actually, the only condition we set for ourselves was that they should always be bags. Military, after coffee, cocoa, letters, coins. That was the trail we followed.
For the sake of ideas, Justina sometimes regrets that she (still) does not have a directional education related to strictly technical industrial product design. – I have postgraduate studies planned, but for now I act intuitively. I read a lot, listen to lectures by various designers, get inspiration. This allows me to broaden my way of thinking a bit about the practical aspects of design: how an object will be used, whether dishes will be dishwasher safe, and so on," says Justyna. And she admits that probably "professional designers would have some reservations about them. – But these are not dishes to be introduced on an industrial scale. It's more about them being objects that carry some kind of philosophy.
So with this design, too, it varies. – Sometimes one sits down, designs, makes a sketch. And sometimes one goes on the spur of the moment. More often an idea is born out of experimentation, especially in the case of bottle dishes, because especially in their case I try to use the original shape and develop it in such a way as to create something new, but at the same time retain their character. Justina laughs that the "professional deviation" syndrome has caught up with her. – My friends don't give me drinks in bottles anymore, especially ones they would like to keep for themselves. But indeed, in the beginning it was friends and a few friendly restaurants, caterers and catering companies who set aside bottles for me. The choice of bottles was dictated, on the one hand, by environmental considerations (although Justina insists that she is no over-the-top eco-enthusiast), and on the other, by the question of price. – My first dishes were created from flat glass, in single copies. But at some point I realized that the use of expensive materials for glass decoration and such a creative approach to each product lifted the selling price too much. The choice of bottles in my case reduced the price by several hundred zlotys, because by reducing the cost of buying glass, I could significantly reduce the final production calculation. I simply tried to find the golden mean between mass production and unique character.
In Polish, the debut of the brand "Trykot" took place during a fashion fair in 2013. – A woman came up, said: "how nice these are! I'll have 16 pieces, please." She took our bags as gifts to customers in Saudi Arabia,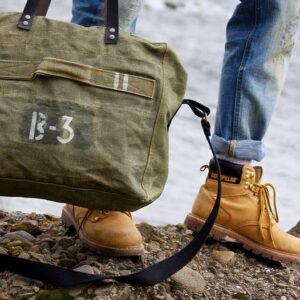 where she had a manufacturing company. She said the linen bags with 1950s stamps were characteristic of Poland and attractive to the Saudis at the same time. And later she became our regular customer," says Iza.
The production process in their two-person manufactory (casually assisted by her dad, who helps with the tags, also hand-sewn) is somewhat unusual. That is: first there is the material, then there is the design and making. – Each of these bags is unique in the world.
Of course, they were mass-produced, but each one has gone through something different, is spoiled differently, from a different angle on something interesting to highlight," says Iza. And she admits that some sources are already drying up. – We have a couple of regular suppliers, but often people also report to us themselves that they found something interesting in the basement.
Each bag comes with a tag with a short message, for example, "I was handmade from old military stretchers, used in the Polish army, and recycled leather, obtained from an old worn-out sofa. Or: "in addition, the bag has a sewn-in original holster from a P-64 pistol)." (this refers to covers for "chaki," Polish 9mm-caliber pistols, mass-produced between 1965 and 1977, which were bought by Iza and Ewa by accident – the owner had nothing to do with them and planned to burn this pile, dozens of holsters, in a stove, for warmth).
– Well, it was a shame. One – that it would poison the environment, after all, this is pure tanned leather. Two – that it is so strange to throw something away. At our house in the corners of the basement there are bags of our mother's clothes from the 70's. If anything happens, we'll get to them too," laughs Iza.
A seemingly problematic issue is the aforementioned leather, but vegetarians and environmentalists can order bags without animal-derived elements. – Holster bags, on the other hand, are reportedly most popular with lady teachers. That's the feedback we got. And also that the handbags travel all over the world and are unbreakable.
These, in fact, are made from materials such as military transport medical bags from the 1940s and 1950s, in which various medications, crutches, and leg stabilizers were transported; bags in which military clothing was stored; military stretchers; covers for blood pressure monitors; strong as hell linen mail bags; coffee and cocoa bags imported from all over the world.
Neither Iza nor mother Eve has ever had a problem with us working together as mother and daughter. – We have always had similar taste, in general we are very similar. Only mother immediately stipulated that she prefers not to get involved in customer contact and advertising, she prefers to sew quietly, combine," Iza explains. – On my side is sales, running the website, contacting customers, searching for fairs and events where it's worth showing up. Although there is a bit of work to do with the latter, because we have to transport all our belongings, arrange them on hangers, but I have the satisfaction of meeting customers in person, I can tell them about the bags, their history," she adds.
And finally, "It's nice that we can somehow make a living out of it, doing something together and thus spending more time with each other, and at the same time creating something out of something, giving a second life." For the environment At the "Tynka" Art Studio, glass is processed in an electric furnace, where the temperature exceeds 900 degrees. This much is enough to be able to "shape glass into the forms of your choice," although not every glass, for example, non-tempered glass, which can neither be melted nor cut under such conditions. As for the concept and design: sometimes you need to experiment, test, but more often rely on experience to assess how to work on a particular bottle, what to combine it with, what form to give it.
Some customers come to her via the Internet, many after trade fairs where she presents her products, quite a few through word of mouth. What plays a bigger role for them: the advantages of recycling or aesthetic qualities? – Both. In the case of individual customers, the first impulse often works: "wow, something cool, different", "is it really a bottle?". If you come across a person in whom this surprise effect is followed by a moment of reflection, it often ends with the thought: "besides being pretty, it's also useful, it helps protect the environment". – Justina explains. – This is some drop in the ocean," she admits. And at the same time she nods: well, yes, a drop drills the rock.
This can be seen, for example, in the fact that for customers with whom she works on a larger scale, "the recycling aspect is already very important, because, among other things, it creates a cool corporate image." – This is partly due to fashion, I suppose – but it's a fashion that is both sensible. Even if it passes, it will leave a feeling that you have to think about the world in the long term," says Justina.
source:
https://kobieta.wp.pl/drugie-zycie-smieci-justyna-ewa-i-iza-wyczarowuja-z-nich-cuda-6226215235418241a